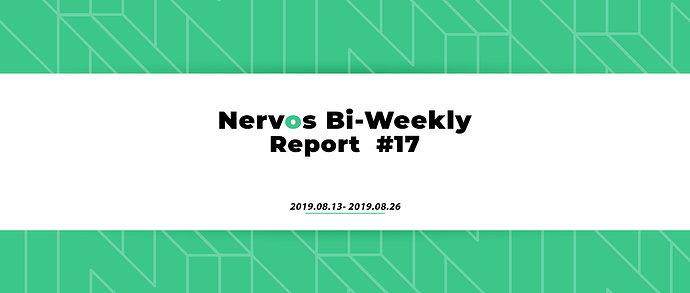 Highlights
GPU miner has been released in the new vision.

Our Chinese Communities held an activity for giving CKB a Chinese name and logo together. There are hundreds of posts in Nervos Talk.

We have visited 13 cities worldwide and participated in 23 events!
Development
Community
Mining Competition

Round 3 of our Mining Competition has ended!we want to express our sincere gratitude to the community, and all that participated.

Round 4 will start on the 7th Sept.Details of the 4th round competition will be released shortly and more tokens will be available to win.

Events Recap

Nervos in Taipei

Ash (Core Developer,Neuron & SDKs)gave a speech about " A Brief History of Open Source Wallet".

Nervos in Berlin

At the blockchain week in Berlin, Xuejie(CKB-VM core developer) shared 7 speeches, and Toya (Nervos Ecosystem Development) participated in 2 speeches.

Nervos in Moscow

Haichao (Nervos Researcher) was invited to a speech regarding the CKB at the F2Pool Meetup in Moscow.

Nervos in Beijing

Nervos in Vietnam

Nervos had Meetups in Ho Chi Minh and Hanoi.Ben(Nervos CMO)and Cipher(Nervos Researcher)had an in-depth exchange with the Vietnamese community.

Jack(Nervos Researcher) shared the layered architecture of Nervos at the Kyber Network event.

More about events, please check the video.

Game and Activity
Something to read
Upcoming events
Korea

August 31, Nervos AMA Meetup, Ryan(Nervos Community Manager) and Mike(LandingBlock CEO) will have speeches.

September 6, in Seoul, Beyond Consensus - Layered Architecture, Nervos with Tokamak Network, Biforst, Carry Protocol, and MakerDAO.
Nervos Fans
Telegram: 7838

Twitter:4413
Join our community