Voting Stage: [VOT]HuntingNFT Project grant proposal (ckb.community)
This is the proposal of the HuntingNFT GameFi to the Community Fund DAO. This proposal aims to promote the design and development of the HuntingNFT Project V2.0, attract more external users to migrate to the Nervos network for interaction in the form of Play to Earn, generate greater network value and popularity, and demonstrate the technical and performance advantages of Nervos.
Funded activities: V2.0 design and development, operation and promotion
Grant amount: $74,300(18,255,528 CKB @ 0.00407,UTC 14/03/2023)
About HuntingNFT:
HuntingNFT is an original GameFi project initiated by Nervos global community volunteers. By combining UniPass, NFT BOX, mNFT, Yokaiswap, JoyID and other infrastructure in Nervos ecosystem and team's original gamification design, HuntingNFT will continue to explore and create more Based on the Nervos public chain and cross-chain GAMEFI gameplay and value.
Website: Hunting NFT
Doc: https://docs.huntingnft.cc/
Project developments
Progress of the project
The game is currently running version V1.5, based on the Nervos L1 network, and has completed the integration mNFT TokenCITY, NFT BOX, UniPass and other basic building blocks of the Nervos ecology. Users can use CKB to recharge and purchase Dragon Scale NFT for battle, and use the battle-rewarded Dragon Scale equipment to summon Wright Dragon. Used to redeem airdrop rewards in V2.0 and open subsequent GAMEFI play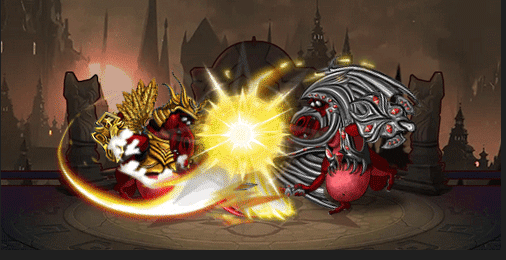 Project plan:
Version V1.5 is being progressed in three phases.
Stage 1 best test campaign ______________________ completed
Stage 2 Wright Dragon MINT competition ___________ in progress
Stage 3 HuntingNFT airdrop redemption ____________ to be started
All three of these stages have now been designed and developed
Start the game: https://app.huntingnft.cc/
Version V2.0 is planned to advance in four phases.
Phase 1 issues airdrop rewards and logs into DEX to start trading _____________________________________________ to be started
Phase 2 opens GameFi game modes such as sacrifice, garrison and mining _____________________________________________ to be started
Phase 3 starts Token Pledge campaign _____________ to be started
Phase 4 completes GameFi play upgrades for Lv5-10 gear _____________________________________________to be started
Project mode and UI design completed, pending development.

Project operations:
Event organisation
In nearly two months of operation of v1.5, the team developed a targeted campaign operation strategy based on the current state of the Nervos ecosystem and implemented many community events, such as "Early Access", "Beta test event "Early Access", "Beta test event", "Wright Dragons Mint Contest", "Seek the wright dragon" and "Fat Dragon club'.
During this period, we also formed strategic partnerships with a number of projects both inside and outside of ecology, and held two successful AMA events.
To find out more about the AMA, please check below:
Event operating data
With the implementation of the team's operational strategy, the project attracted a large number of new users to the Nervos ecosystem within two months of the official release of V1.5, most of them are:
First time contact with Nervos
First time using Nervos related infrastructure
First experience using Email to register and control encrypted assets
During this time we received good feedback from users and achieved our project goal of bringing more users to Nervos in the form of GameFi, which also helped us to build a sizeable base of users for the development of V2.0.
The operational data
New registered unique addresses in the testnet ___________________10K
Number of game NFT mint during the event ______________________136.1K
Number of Wright Dragons mint during the event __________________2593
Test environment CKB revenue ____________________________20,740,000
This phase of the campaign resulted in 1,435 winners, who eventually registered for the Nervos mainnet address via Unipass, awarded the Best tester NFT and qualified for the airdrop rewards.
These regular users are continuing to purchase top-up CKB and continue to complete the mainnet game while the number of users continues to grow.
Data of NFT BOX: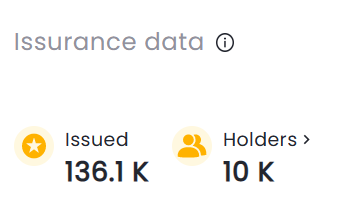 NFT browser data: (You can go to the block browser, select TESTNET and search for "HuntingNFT" to see the data to verify our activity: https://ckb-nft-explorer.staging.token.city/)

Community Operation Data
Twitter: https://twitter.com/HuntingnftTeam
Number of followers __________20347
Highest number of retweets____10700
Highest number of likes _______4988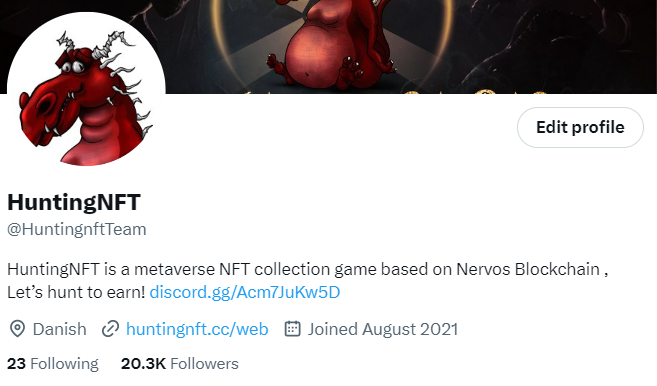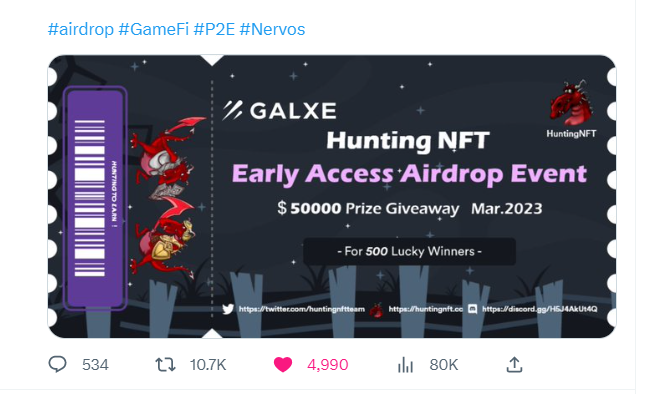 Discord community: HuntingNFT
Number of community members ______12900
Number of active people ____________2000
Average number of people online______800

Road map
2023 Q1-Q2 HuntingNFT V2.0 is officially launched, open Defense, Sacrifice gameplay. The community launches airdrop exchange activities, players can go to YokaiSwap to participate in trading, yield farming and staking.Economic model operates stably, iterative optimizes game interaction, open multi-dimensional P2E game models.
2023 Q3- 2024 Q2 HuntingNFT Wright Island model is launched, opening new PVP、PVE game models such as Island Landing, The Loot Night and Unite Garrison.

Financing:
In order to ensure the fairness of the participants in the early stage of the project and the balance of the game economic model, we don't have an IDO process or private placements.
During this phase, all the CKB earned by destroying NFT will provide initial liquidity for the $HNFT/$CKB on YokaiSwap platform.
Budget request
The adoption of this budget will help us pay part of the V2.0 project costs, fully upgrade the front-end interaction, optimize the gameplay, bring into play the features of the P2E+DEFI economic model, attract more external users to the Nervos ecology, increase the activity of the Nervos community, form a positive cycle of public chain, project and ecology, and continue to provide project value to the Nervos ecology and users.
Total budget: $74,300 USD(18,255,528 CKB @ 0.00407,UTC 14/03/2023)
Budget Usage Plan
The details of the work and the use of funds are allocated as follows.
Contract Development _____8.9K
Front-end development ____8.7K
Back-end development ____8.5K
Adaptation of JoyID_______3.5K
Server Rental____________8K
O&M costs______________4.5K
Hardware Costs _________2.2K
Product Design __________9.5K
UI Design ______________8K
Animation design_________8.5K
Community Operations ____2K
Event Costs _____________2K
Total ___________________74.3K
Thanks to your support, we are also offering the following rewards to participants in this proposal.
30 randomly selected users in the proposal phase will be awarded a $HNFT airdrop.

All users who participate in the voting phase will be rewarded with $HNFT based on a voting weight of 100:1.
(Please leave your 0x address in the comments section after you have liked or voted)
HuntingNFT.team
这是HuntingNFT GameFi项目对社区基金DAO的提案。该提案旨在进一步推动HuntingNFT项目V2.0版本的设计开发工作,以Play to earn形式,吸引更多外部用户迁移至Nervos网络进行交互行为,产生更大的网络价值及知名度,展现Nervos的技术及性能优势.
资助的活动:项目V2.0版本设计开发,运营推广
捐赠的金额:$74,300(18,255,528 CKB @ 0.00407,UTC 14/03/2023)
HuntingNFT项目简介
HuntingNFT 是由 Nervos 全球社区志愿者发起的一个 GameFi 原创项目,旨在通过组合 Nervos 生态中 UniPass、NFT BOX、mNFT 、Yokaiswap、JoyID等基础设施,结合团队原创游戏化设计,不断探索,创造更多基于 Nervos 公链及跨链的GameFi玩法与价值。
Website: Hunting NFT
Doc: https://docs.huntingnft.cc/
项目发展情况
项目进展:
目前游戏正在运行的版本为V1.5版本,基于Nervos L1网络,已经完成了mNFT、TokenCITY、NFT BOX、UniPass等Nervos生态基础构件的集成,用户可以在游戏中使用CKB充值购买龙鳞NFT进行战斗,使用战斗奖励的龙鳞装备召唤怀特肥龙,用于兑换V2.0版本中的空投奖励,并开启后续GameFi玩法。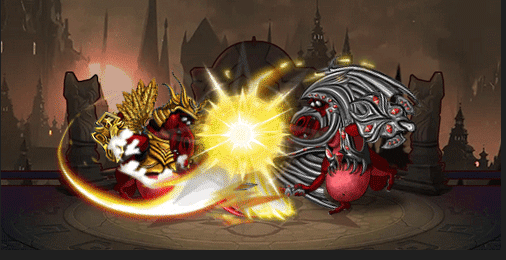 项目计划:
V1.5版本共分为三个阶段进行推进:
第一个阶段为最佳测试活动__________________________已完成
第二个阶段为怀特肥龙MINT大赛______________________进行中
第三个阶段HuntingNFT空投兑换______________________待开始
目前以上三个阶段均已完成设计开发
开始游戏:https://app.huntingnft.cc/
V2.0版本计划共分为四个阶段推进:
第一个阶段发放空投奖励,并登陆DEX开始交易___________待开始
第二个阶段开启献祭、驻守、挖矿等GameFi游戏模式______待开始
第三个阶段开始Token质押活动________________________待开始
第四个阶段完成Lv5-10装备GameFi玩法升级_____________待开始
已完成原型设计及UI设计,待开发。

项目运营情况
活动组织:
在项目V1.5版本近两个月的运营过程中,团队根据Nervos生态现状,制定针对性的活动运营策略,执行落地了诸多社区活动,例如"Early Access","Beta test event","Wright Dragons Mint Contest","Seek the wright dragon""Fat dragon club"等活动。
在此期间,我们也与多家生态内外项目形成了战略合作,并成功举办了两场AMA活动。
想了解更多AMA内容,请前往:
活动运营数据:
经过团队运营策略的执行落地,项目在V1.5正式发布后的两个月内为Nervos生态吸引了大量的新增用户,他们其中绝大多数用户为
第一次接触Nervos
第一次使用Nervos相关基础设施
第一次体验使用邮箱注册并控制加密资产
这期间我们收获了良好的用户反馈,实现了以GameFi形式为Nervos带来更多用户的项目目标,这也为我们开发V2.0版本积累了一定规模的基础用户。
活动期间项目运营数据如下:
活动吸引测试环境新注册独立地址数__________10K
活动期间游戏NFT道具MINT数_______________136.1K
活动期间怀特肥龙被铸造数__________________2593
测试环境CKB收入_________________________20,740,000
这一阶段的活动最终有1435个用户胜出,他们最终通过Unipass注册了Nervos的主网地址,并获得了Best tester NFT奖励且拥有空投奖励资格。
目前这些正式用户也在持续购买充值CKB,继续完成主网游戏任务,同时用户数也在持续增加中。
项目NFT BOX后台数据: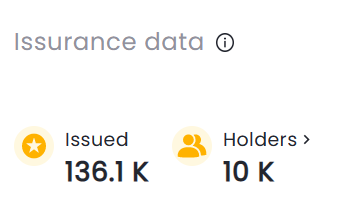 NFT浏览器数据:(可以前往区块浏览器,选择TESTNET搜索"HuntingNFT",查看验证我们的活动数据:https://ckb-nft-explorer.staging.token.city/)

社区运营数据:
推特:https://twitter.com/HuntingnftTeam
粉丝数量______________20347
推文最高转发数________ 10700次
推文最高点赞数量______ 4988次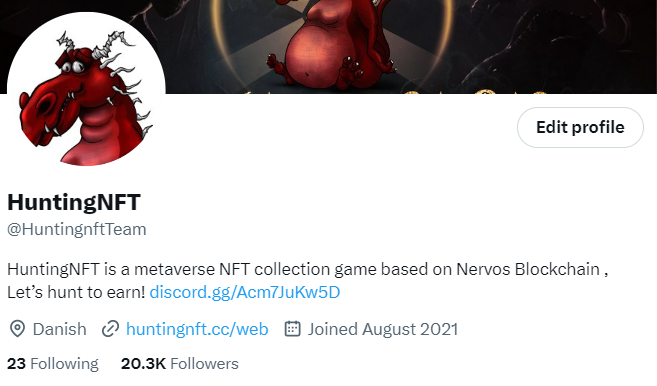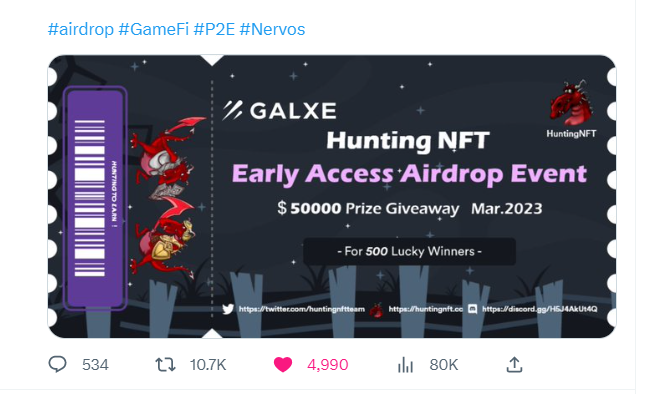 Discord community:HuntingNFT
社区人数_______12900
活跃人数_______2000
平均在线人数___800

项目路线图:
2023 Q1-Q2 HuntingNFT V2.0版本正式发布,开启献祭、驻守GameFi玩法。社区完成空投兑换,登陆YokaiSWap开启流动性挖矿以及质押等玩法。经济模型逐渐稳定,开启更多的P2E的游戏模式。
2023 Q3- 2024 Q2 发布怀特岛版本,启动PVP、PVE游戏模式,例如夺岛战争、暗夜降临、联盟驻守等玩法。

融资情况:
为了保证项目初期参与者的公平性,以及游戏经济模型的平衡,我们不会举行IDO,也没有过任何私募的行为。
项目在这期间所有销毁NFT所获得的CKB将在YOKAISWP平台给$HNFT/$CKB交易对提供初始流动性,$HNFT将在V2.0上线后在YokaiSWAP以及CEX开始交易。
预算申请:
该预算可以帮助我们支付部分V2.0版本设计开发费用,可以使项目全面升级前端交互、优化玩法,发挥P2E+DEFI经济模型特点,吸引更多的外部用户进入Nervos生态,提升Nervos社区活跃度,形成公链、项目、生态正向循环,并持续向Nervos生态及用户提供项目价值。
总预算: $74,300(18,255,528 CKB @ 0.00407,UTC 14/03/2023)
预算使用计划:
具体工作内容及资金使用分配如下:
合约开发____8.9K
前端开发____8.7K
后端开发____8.5K
适配JoyID___3.5K
服务器租赁__8K
运维成本____4.5K
硬件成本____2.2K
产品设计____9.5K
UI设计______8K
动画设计____8.5K
社区运营____2K
活动费用____2K
合计________74.3K
感谢您的支持,我们也为此次提案支持者提供了以下奖励:
提案阶段随机选取30位点赞用户,奖励一份$HNFT空投。
投票阶段所有参与投票用户,按投票权重100:1奖励$HNFT。
(请您在点赞或投票后在评论区留下您的0x地址)
HuntingNFT.team