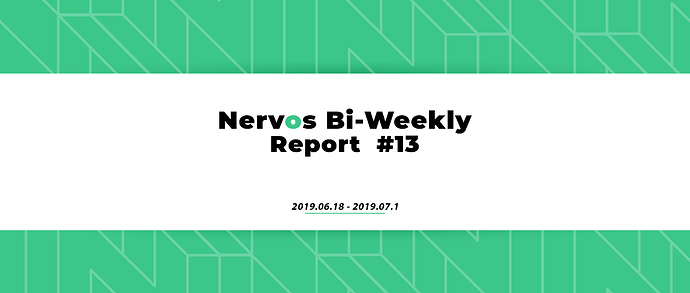 Hi everyone,
On June 29, the mining competition came to the end with great success. Who has won the huge prizes? Please check here.
We are excited to announce a breaking news that Nervos and Huobi will build the financial public blockchain together. We had looked forward to this collaboration for a while. Let us expect what it will bring to us!
If you would like to know more recent developments about Nervos, please check further details below​



Development
New RFC: RFC #0020, the consensus protocol.

CKB v0.15.03 has released.

CKB VM
For more technical development details: Nervos CKB Development Update.
Community
Nervos Fans
Telegram:7773

Twitter:2304
Random interesting stuff
On June 19, Reng Zhang (Researcher at Nervos) proposed consensus protocol (NC-MAX). We are currently looking for volunteer translators to translate it into various kinds of language versions. We also prepare the rewards (In Chinese)!

We are actively looking for Nervos core community contributors. If you are interested in, please fill out the Nervos Core Community Contributor Application Form to let us know more about yourself and what support you require from the Nervos team.
Upcoming events
On July 6 (Taiwan), Nervos Taipei Meetup, Nervos Henry and Williams will introduce Nervos layer 1 and teach how to mine the blocks on a personal laptop.

On July 17 (San Francisco), Rust in Blockchain Meetup, Xuejie Xiao and Brian will give a speech about Rust.

On July 17 (Hangzhou), Crypto Wednesday No. 26, QuarkChain and Nervos will discuss the consensus design of blockchain layer.
Join our community
Thanks to Lilian 's translation.