It's exciting to see CKB mainnet's hashrate reaches 2PH/s today, as the result of the mining transition from GPU/FPGA to ASICs. Until now 4 ASICs have been announced and we're still at the beginning of the hashrate bump. Thanks to this CPU -> GPU -> FGPA -> ASIC process and a mature ASIC manufactoring and distribution chain the mined CKBytes have been distributed to many different types of cohorts through the last year (a long period of time!). The simple design of Eaglesong lowered the ASICs manufacturing barrier as we expect, although the power of market is still far beyond our wildest imagination that 4 ASIC models emerged before Lina turns 4 months old. The network is decentralized and growing. If you want to know more about this transition here's a good summary.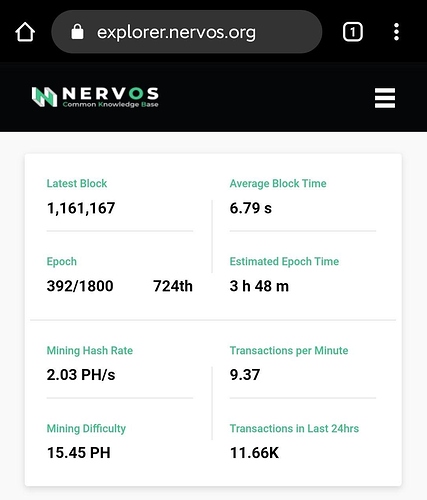 As the hashrate spiking it's fun to examine how the network's security changed. Because we have real GPU mining data we can calculate a rough equivalent GPU numbers of the hashrate today and compare it with Ethereum. Here's a GPU mining performance table:
| GPU | CKB Hashrate | ETH Hashrate | Note |
| --- | --- | --- | --- |
| 2060x6 | 4380M [1] / 4492M [2] (avg. 4436) | 165M [2] | |
| P104x6 | 3780M [1][2] | 206.25M [2] / 240M [3] (avg. 223M) | 240M = 320M * 6/8 (P104x8 eth hashrate is 320M in [3]) |
| P106x6 | 2460M [1] / 2510M [2] (avg. 2485M) | 144M [2] | |
With the table above, it's easy to calculate how many GPUs are needed for today's hashrate:
CKB hashrate ~2 PH/s = 2,000,000,000 MH/s
ETH hashrate ~171 TH/s = 171,000,000 MH/s
| GPU | # for CKB | # for ETH | CKB/ETH ratio |
| --- | --- | --- | --- |
| 2060x6 | 450857 | 1036364 | 43.5% |
| P104x6 | 529101 | 766816 | 69.0% |
| P106x6 | 804829 | 1187500 | 67.8% |
The numbers show that if all ETH miners are mining with multi-purpose device such as GPUs (worst case), Ethereum would have roughly 2x devices of CKB. In this case it would take about one half of ETH mining rigs to deploy a 51% attack against CKB, which is quite unrealistic as the same force could 51% attack Ethereum directly and it would be more lucrative. Based on this I think it's safe to conclude that Hashrate renting attack is no longer profitable.
The next question is, how much does it cost for a bribing attack against CKB? This is a much harder question to answer due to the anonymous nature of PoW. The cost to bribe manufacturers, pools and miners are all different as they have different fixed cost and variable cost. Mining pools appears relatively easier to bribe because unlike manufactures and miners they do not need to purchase ASICs, but it's also well known that pools sometimes participate in mining themselves which will change the dynamics. We're at the dawn of CKB's ASIC era, we should be able to answer these questions better when the Lina is grown up.
Refs.
[1] The GPU stats was get from here but it's removed recently, please check here instead for reference.
[2] https://www.chainnews.com/zh-hant/articles/955636747786.htm
[3] https://www.sparkpool.com/token/ETH#gpu