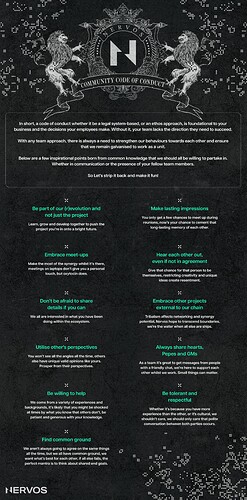 Community Code of Conduct
In short, a code of conduct whether it be a legal system-based, or an ethos approach, is foundational to your business and the decisions your employees make. Without it, your team lacks the direction they need to succeed.
With any team approach, there is always a need to strengthen our behaviours towards each other and ensure that we remain galvanised to work as a unit.
‍Below are a few inspirational points born from common knowledge that we should all be willing to partake in. Whether in communication or the presence of your fellow team members.
So Let's strip it back and make it fun!
'Be part of our (r)evolution and not just the project'
Learn, grow and develop together to push the project you're in onto a bright future.
'Make lasting impressions'
You only get a few chances to meet up during reunions, now's your chance to cement that long-lasting memory of each other.
'Embrace meet-ups'
Make the most of the synergy whilst it's there, meetings on laptops don't give you a personal touch, but oxytocin does.
'Hear each other out, even if not in agreement'
Give that chance for that person to be themselves, restricting creativity and unique ideas create resentment.
'Don't be afraid to share details if you can'
We all are interested in what you have been doing within the ecosystem.
'Embrace other projects external to our chain'
Tribalism affects networking and synergy potential, Nervos hope to transcend boundaries, we're the water when all else are ships.
'Utilise other's perspectives'
You won't see all the angles all the time, others also have unique valid opinions like yours. Prosper from their perspectives.
'Always share hearts, Pepes and GMs'
As a team it's great to get messages from people with a friendly chat, we're here to support each other whilst we work. Small things can matter.
'Be willing to help'
We come from a variety of experiences and backgrounds, it's likely that you might be shocked at times by what you know that others don't, be patient and generous with your knowledge.
'Be tolerant and respectful'
Whether it's because you have more experience than the other, or it's cultural, we shouldn't care, we should only care that polite conversation between both parties occurs.
'Find common ground'
We aren't always going to agree on the same things all the time, but we all have common ground, we want what's best for each other, if all else fails, the perfect mantra is to think about shared end goals.
---
---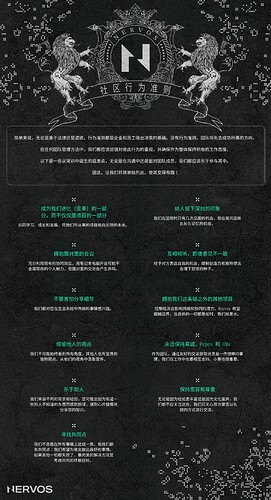 社区行为准则
简单来说,无论是基于法律还是道德,行为准则都是企业和员工做出决策的基础。没有行为准则,团队将失去成功所需的方向。
在任何团队管理方法中,我们都应该加强对彼此行为的重视,并确保作为整体保持积极的工作态度。
以下是一些从常识中诞生的启发点,无论是在沟通中还是面对团队成员,我们都应该乐于参与其中。
因此,让我们将其单独列出,使其变得有趣!
"成为我们进化(变革)的一部分,而不仅仅是项目的一部分"
共同学习、成长和发展,将我们所从事的项目推向光明的未来。
"给人留下深刻的印象"
我们在团聚时只有几次见面的机会,现在是巩固彼此长久记忆的机会。
"拥抱面对面的会议"
充分利用现有的协同效应,用笔记本电脑开会可能不会展现你的个人魅力,但面对面的交流会产生共鸣。
"互相倾听,即使意见不一致"
给予对方表达自我的机会,限制创造力和独特想法会埋下怨恨的种子。
"不要害怕分享细节"
我们都对您在生态系统中所做的事情感兴趣。
"拥抱我们这条链之外的其他项目"
拉帮结派会影响网络和协同的潜力,Nervos 希望超越边界,当其他的一切都是船时,我们就是水。
"借鉴他人的观点"
我们不可能始终看到所有角度,其他人也有宝贵的独特观点。从他们的视角中汲取营养。
"永远保持真诚,Pepes 和 GMs"
作为团队,通过友好的交谈获取消息是一件很棒的事情,我们在工作中也要相互支持。小事也很重要。
"乐于助人"
我们来自不同的背景和经历,您可能会因为知道一些别人不知道的东西而感到惊讶,请耐心并慷慨地分享您的知识。
"保持宽容和尊重"
无论是因为经验更丰富还是因为文化差异,我们都不应关注这些,我们只关心双方是否以礼貌的方式进行交流。
"寻找共同点"
我们不总能在所有事情上达成一致,但我们都有共同点:我们希望为彼此做出最好的事情。如果其他一切都失败了,最完美的解决方法是考虑共同的终极目标。