Hey, CKB Fam,
First and foremost, we would like to express our heartfelt gratitude for your continuous support and active involvement. It is your enthusiasm and feedback that have led ckbdapps.com to successfully complete its first phase of development. Now, we eagerly seek to hear your voices and collect valuable insights and suggestions for the next phase of our journey.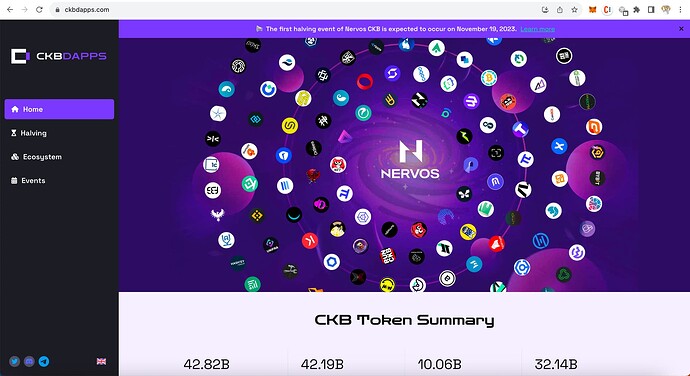 Why Your Input Matters?
The mission of ckbdapps.com is to provide a vibrant platform that enables Nervos community members to seamlessly engage with the Nervos ecosystem. We recognize that it is through your needs and feedback that we can better meet your expectations and continuously enhance the platform, delivering an exceptional experience to our community users.
Scope of the Collection
We welcome you to contribute various types of requirements and suggestions, including but not limited to the following:
Innovative Ideas: If you have any new feature modules in mind that you'd like to see added to ckbdapps.com to address specific needs, we are eager to hear your proposals.
Feature Enhancements: Whether you have improvement suggestions for existing platform features or wish to see particular functions enhanced, please share your insights.
User Experience: We are keenly interested in feedback related to website interfaces, navigation, search capabilities, and all aspects of the user experience.
Community Interaction: Your input on how we can enhance community engagement or specific community activities you would like to participate in is highly valued.
How to Share Your Requirements?
You can share your requirements and suggestions through the following methods:
Reply to this post: Feel free to respond to this post below with your requirements and suggestions.
Deadline
The requirement collection period will extend until September 25, 2023. We eagerly anticipate hearing your voices and collaborating with you in shaping the second phase of ckbdapps.com, contributing to the thriving development of the Nervos ecosystem. Thank you for your participation!
Warm regards.
---
CKB 社区的家人们,
首先,我们要感谢您一直以来的支持和参与,正是因为您的热情和反馈,ckbdapps.com 已经成功完成了第一阶段的开发。现在,我们迫切希望聆听您的声音,为第二阶段的发展汇集各种宝贵的需求和建议。
为什么需要您的需求?
ckbdapps.com 的使命是为提供一个充满活力的平台,让Nervos社区成员能一站式地参与 Nervos 生态系统。我们深知,只有通过您的需求和反馈,我们才能够更好地满足您的期望和需求,持续改进平台,为社区用户提供更出色的体验。
征集范围
我们欢迎您提供各种类型的需求和建议,涵盖但不限于以下方面:
新的创意: 如果您希望在ckbdapps上添加一些新的功能模块,以解决某类需求,我们非常愿意听取您的建议。
功能改进: 如果您对平台上现有功能有改进建议,或者希望看到特定功能的增强,欢迎分享您的见解。
用户体验: 无论是关于网站界面、导航、搜索功能,还是其他用户体验方面的建议,我们都十分感兴趣。
社区互动: 您认为应该如何增强社区互动,或者您希望参与的特定社区活动,我们都希望听到您的看法。
如何分享您的需求?
您可以通过以下方式分享您的需求和建议:
回复此帖: 您可以在此帖下方回复,分享您的需求和建议。
截止日期
需求征集将持续至2023/09/25,请在此之前分享您的建议和需求。
我们非常期待听取您的声音,与您一同共建 ckbdapps.com ,为 Nervos 生态系统的繁荣发展添砖加瓦。感谢您的参与!