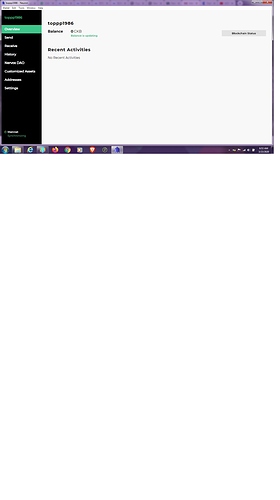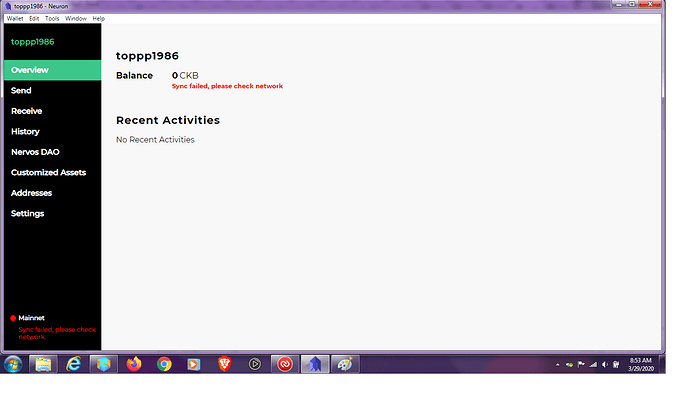 I have depotited token but it is not showing
TxID:
53ed7b95e3e015f26dfa75d1f27b82388cad0a742422afb4aff21c75895d0226
Hey Toppo
Have seen your screenshot,and you need to wait your Neuron wallet synced with mainnet so that it can read your onchain deposit and show the data in front of you.And there is a good news for you : tia week we have released a new version Neuron wallet that can spend less time syncing .
You can update it on "setting" feature or download here
Hello @WilliamsBlock the Neuron wallet is syncing extremely slowly on my computer. I'm on the 453K block and it's running since yesterday morning, it's getting like 1K by hour now. I don't want to wait months to get my transaction on my wallet, do you have a solution? I want it back to the exchange now.
My guess is your PC doesn't have the dependency to run the CKB node bundled within Neuron. Please follow this FAQ to install VC++ redistributable and then restart Neuron to try again.
We'll release a new version of Neuron soon addressing several performance issues. CKB itself also has some issue syncing, which looks like the issue you're facing. A fix will be rolled out in the middle of April.
u can use wallet v 0.28.0
a temporary solution:
there's checkpoint for neuron that starts at block #1,156,900
this should help anyone coming on-board while the sync is being optimized.
Instructions are easy: Extract the "data" folder into
PC:
C:\Users(YOUR USER NAME)\AppData\Roaming\Neuron\chains\mainnet\
Mac:
~/Library/Application\SupportNeuron/chains/mainnet
Yesterday we released the new version Meuron v0.31.0-pre2 .Not only fix some bugs,but also improve the performance of syncing.Try it chief!
thanks. the issue remained as strong as it was . nothing solved for being slow in synchronizing the wallet.
i didnot saw in any other cryptos wallet something like this
did you have any problem using the checkpoint?
i download that file but for neuron wallet there is no such path ''PC:
C:\Users(YOUR USER NAME)\AppData\Roaming\Neuron\chains\mainnet'' in my win 10 for putting data in it.
substitute whatever the user name is that you log on to your PC
i know dude, i have skills in pc. in win10 i didnt find such path or something like that. in general why this coin have such a wallet with such a problem ?. i spent 3 days and now block 415970 synchs.
do you have folders hidden? if the wallet was installed you should have these folders
mention that path may be hidden. i just did it. it works from block 1,157,000.
thank u mathoticus alot.
plz answer this question. can a stablecoin like usd tether work on nervos bockchain? like etherium usdtether?
i waited 1 month already how many month it takes i really feel bad
you could download the latest release
Download CKB node v0.31 and start it independantly. Launch the node before you launch Neuron and Neuron will automatically sync with the independant CKB node (instead of its built-in node).