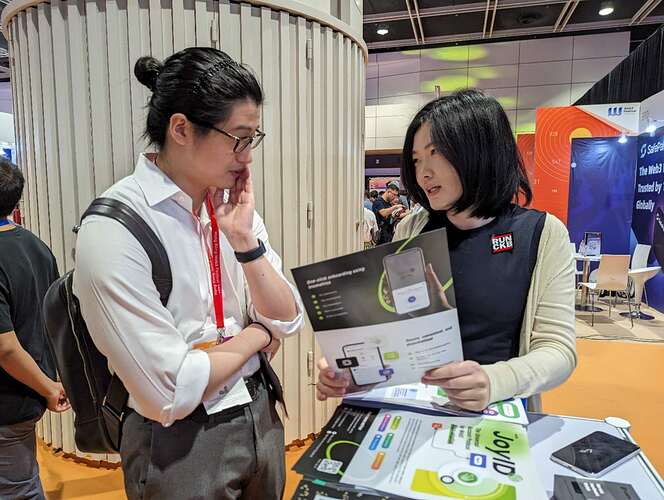 Over the past week, I had the privilege of representing the Nervos community at the Hong Kong Web3 Festival 2023, where I had the opportunity to share Nervos' vision and achievements with hundreds of attendees. I'd like to take this chance to share my thoughts and feelings with our community.
My first encounter with Nervos dates back to four years ago, on an April evening in 2019. I listened to Daniel's online livestream, in which he introduced Nervos' vision, technical architecture, and economic model. Since then, I have been deeply attracted to this visionary design. When I wanted to delve deeper into Nervos, I found that there were few articles online explaining Nervos. Eventually, I found what I was looking for on talk.nervos.org, where there were many articles by Nervos' chief architect, @janx . During that time, I spent most of my time immersed in @janx's articles, because there was a lot of knowledge that required some background to absorb. When I encountered unfamiliar technical terms, I had to stop and immediately look up and learn to supplement that knowledge until I understood most of the content. After those days passed, I understood the founding team's original intentions for building Nervos, as well as the implementation plan, and decided to share what I understood about Nervos with my readers.
Although my articles could help some readers understand Nervos' design concepts, four years ago, facing a PoW blockchain that was just born and had no ecosystem applications, my articles at that time were only theoretical, and pure theory was boring and lacked persuasiveness for readers.
I have always been paying attention to Nervos. As I followed Nervos' growth, I gradually discovered that those theoretical things were being implemented on Nervos and were becoming characteristics that set Nervos apart from others.
It was precisely because these features were vividly embodied in some applications on Nervos that it was very advantageous for others to understand Nervos. This made our Hong Kong trip very fulfilling. We invited guests to spend 10-20 seconds to register a Joyid and receive an NFT to experience the difference between Joyid and other wallets. They were amazed because they could not imagine a truly decentralized wallet with no mnemonic phrase, no private key, and no custody. What surprised them even more was that they had a web3 wallet with just their Touch ID or Face ID, and successfully received an NFT. They quickly realized that web2 users could enter the web3 world with zero threshold through Joyid. Among them were some insightful people who, after learning more about Joyid, hoped to use it to expand the user base for their applications. In this way, we showcased Nervos' unique applications to our guests, shared Nervos' vision and design concepts, as well as the advantages of building applications based on Nervos CKB, and gained some potential partners.
While in Hong Kong, I also met Nervos' BD who is a local Hong Konger with great hospitality and enthusiasm. He spoke confidently and left a deep impression on me.
This is a good start, and let's look forward to the takeoff of the Nervos ecosystem together!
Here are some on-site photos: