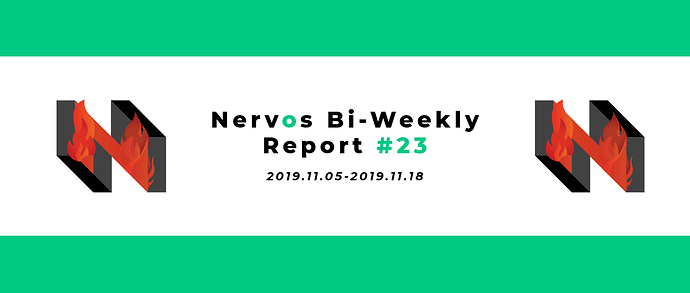 Highlights
Lina is live

Nervos CKB mainnet "Lina" came into existence on November 16. Thank you to the mining pools, Nervos community and Nervos dev team for making this happen. According to the CKB explorer, as of now, we have moved into the 20th Epoch, and everything is going well.

At the same time, Nervos CKB has deployed a new testnet—Aggron—to help developers become familiar with building on CKB.

Nervos DAO

As of now, the number of CKB deposited in Nervos DAO has reached 620 million (about 5% of the initial liquidity). Learn about Nervos DAO.
Community
Neuron wallet guide

Mining competition

The Nervos CKB Testnet Rylai Mining Competition began on June 15th at 06:00 UTC and ended with the launch of our Mainnet Lina. There were a total of 5 Competition Rounds, each with a high level of community participation. Check the details and rewards here.

Community competition on Twitter

For celebrating Lina's launch, we organized #LaunchingLina online competition. Thanks for everyone's entries. Check the resultof this competition.

Community Growth

Nervos community continues to grow- we have launched Spanish and Russian Telegram channels. Welcome to the Nervos community!

Events Recap

Nervos in Barcelona

Nervos AMA in China

Article recommended
Join our community