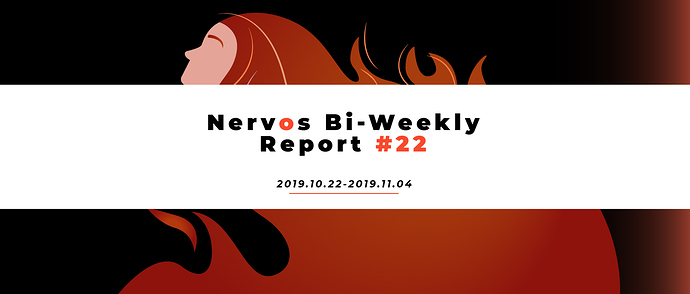 Highlights
The launch of CKB mainnet Lina

Nervos has completed security audits from Peckshield and Least Authority. Additional details in this article. At the same time CKB mainnet "Lina" will be released on Nov 16th. This launch will be a completely decentralized, community-driven process.

To celebrate the launch of our mainnet "Lina", we will launch series of community activities on Nervos Talk and Twitter. (Twitter community design challenge coming soon). Check out our first community activity, how to participate, and some of the limited edition Lina swag you can win!

Nervos and Huobi

Nervos and Huobi jointly develop a high-performance financial public chain that is deeply customized based on open source components such as Muta, CKB-VM, Overlord and nervos-p2p, enriching the landing scene of Nervos Network.
Development
CKB v0.24.0 released on Nov 3rd.

There's a new RFC (PR#142)describing deposit and withdrawal transactions in the Nervos DAO.

For more details, please check the Development Updates.
Community
Mining Competiton

Bug Bounty Program Live

Nervos Japanese Community

Fork It

Events Recap

Nervos in Tokyo

Nervos in SFBW

On Rust In Blockchain workshop day, Core dev Tannr Allard introduced the programming paradigm and Patterns in Nervos CKB.

MinorOS & Nervos CKB

Daniel host an online talk organized by minerOS in a large miner community group. Check the content in Chinese from NervosCommunity.

Online talk with Layer1 Podcast
Upcoming events
Barcelona

Online

Nov 12-14, Nervos Co-founder Daniel will have AMAs from Soros, Bluefox, and Shenlian.
Join our community