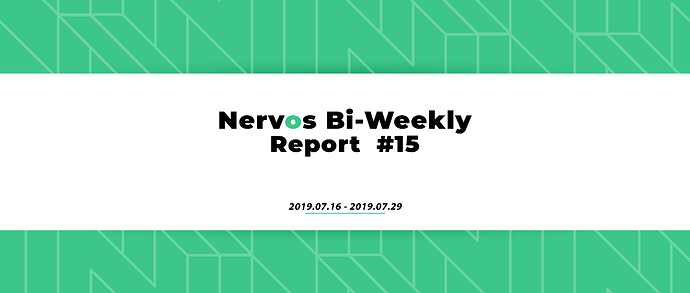 Highlights
We are excited to add imToken to the growing list of wallets including Bitpie, Renrenbit, Cobo Wallet, Hoo wallet, Hashkey Hub and Token pocket that will support CKBytes.

It is our pleasure to announce a new hash function for Nervos CKB, which we call Eaglesong.

The mining competition round 2 is over. The hash rate hit 46M gps (compared with the peak of 3.5M gps during mining competition phase 1). The average hash rate was about 4.75M (it was about 1M gps for phase 1). For more details, please check here.
Development
RFC for the PoW function Eaglesong is published.

Max block interval is adjusted to 30s.

For more technical details, please check Nervos CKB Development Update.
Community
Beyond Consensus meetups

Meetup Area

Nervos in San Francisco

On July 17, Xuejie Xiao had a speech regarding the CKB virtual machine in Rust in Blockchain.

Nervos in Shanghai

On July 27, Henry was invited to a panel discussion of "De-fi and The Future of Economics".

Nervos in Taiwan

On July 28, Henry gave a speech regarding the future of PoW smart contract platform.
Nervos Fans
Telegram: 7232

Twitter: 4023
Something to read
Upcoming events
Join our community
Thanks to Lilian 's edit.