On May 18, 2019, CKB Testnet – Rylai was officially launched!
On May 18th, Nervos organized a small gathering named Launch Party of Nervos CKB Testnet with investment institutions, media friends and community friends. The people present witnessed the launch of the CKB Testnet and the new Logo of Nervos!

The CKB Testnet was named Rylai. Rylai is a hero in Dota, the Dota culture belongs to one of the Nervos subcultures, so in the future we will also use the heroes in Dota to name future milestones.
In addition, there are some other explanations:
This project was born in the cold winter;

The test network usually freezes some features, while the main network will not change much. The action of Freeze is similar to Rylai's skill.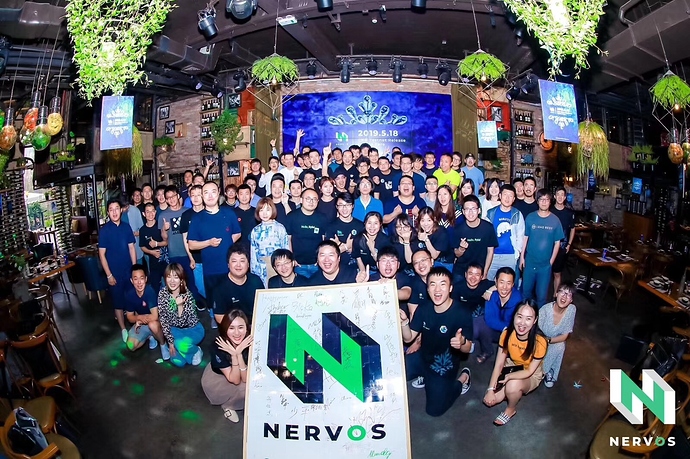 Group photo
After the release of the Rylai Testnet, many actively friends have participated in Rylai's mining and became the coolest person on Rylai Testnet!
To encourage people join the miner team on Rylai, the Nervos Community has won a series of mining benefits for participants.
First Welfare: Show the first block you have mined on Rylai Testnet
How to participate in the activity
Reply the first block you have mined on Rylai below this post, show the picture !

Mark the block height which is specific belongs to you;

Share something interesting or annoying which you have encountered during the Rylai's mining process;

Remember to note your clothing size and your nation.
Reply example
Stwith will reply a sample post below this post;

Non-standard posts may not be eligible for benefits.
Time limit and lottery date
Activity duration: May 23, 2019 ~ June 1, 20:00 (Beijing time UTC/GMT+08:00)

The winners will be announced on June 2nd under this post.
Activity welfare
Welfare 2: In all the replies, the likenum int ranking from No.2 to No.6 can get a Nervos's Wooden ape

How to participate in Rylai Testnet mining
Notes
This activity is supported by Nervos Foundation

This activity is not applicable to users in mainland China
PS: Recruit Nervos Talk Volunteer
In order to expand the influence of Nervos Talk and provide a better forum environment for Nervos enthusiasts, Nervos Talk decided to recruit several forum volunteers.
Volunteer request
Love Nervos Network this project;
Serious and responsible, helpful;
Have a certain blockchain cognition;
Relevant operational experience is preferred.