Curious to monitor the mining profitability of our Bitmain Antminer K5 ASIC mining Nervos CKB on a mining pool other than F2Pool, I switched our antminer K5 over to SparkPool which is a another pay-per-share or PPS CKB mining pool. Thanks to CoinMiningCentral for helping us procure the Bitmain Antminer K5.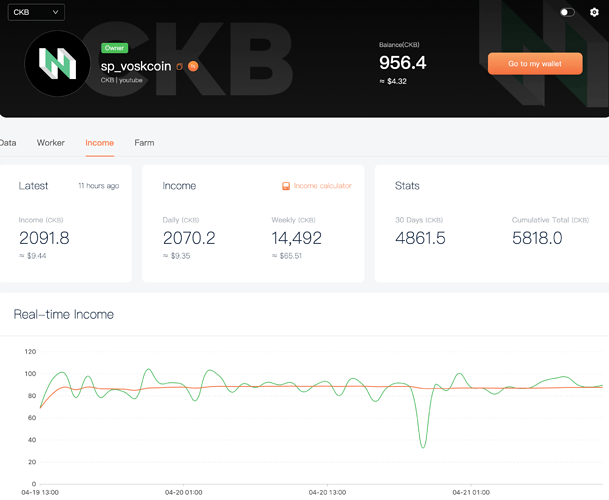 Currently the network hashrate for Nervos CKB is EXPLODING, every single day the network hashrate reaches a new All-Time High (ATH). Measured via MiningPoolStats


Simply put as network hashrate increase, mining difficulty will increase, and thus mining profitability per mining rig will decrease. This is also why we cannot fairly compare mining pool profitability unless we have two of the exact same mining rigs mining at the exact same times on different mining pools. Eitherway mining Nervos CKB on SparkPool we earned slightly over 4000 CKB coins in 48 hours which translates to about $18 dollars or $10 dollars after paying our electric bill (10c per kWh).


Mining profitability on the Bitmain Antminer K5 is rapidly decreasing, even more, than we expected. It is not logical to assume that Bitmain would (especially in this day and age after the Bitmain Antminer D3 nightmare) produce so many Antminer K5 miners that they would not be profitable for anyone. The real issue here is that Todek and their more efficient Nervos CKB ASIC miner the Toddminer C1 and C1 Pro may be aiming to push the Antminer K5 out of the market by making it not profitable to operate. Todek and their Toddminers could be produced in high volume where they will be the only profitable Nervos CKB ASIC miners due to their higher mining efficiency which obsoletes the Bitmain Antminer K5. Simply put, the mining profitability outlook for the Bitmain Antminer K5 is not looking great, and each day Nervos CKB price slightly drops along with the network hashrate continually increasing. As always, time will tell! So stick with us here on VoskCoinTalk and on VoskCoin Youtube here!